Darlington - Highlights


Darlington is a lively town that serves as a gateway to the Tees Valley in the North as well as to the borough. This town in the United Kingdom boasts of an urban community that is proud of its history as well as its role played in the establishment of the locomotion manufacturing and the railways. You can explore the secrets of Darlington by hiring a car in Darlington from us.

The town centre forms the hub of Darlington. This area is renowned for its rich heritage and is dotted by a mixture of both the new and the old buildings that stand side by side. As you explore the streets of Darlington in a hired car, you will be delighted to see the way in which the Victorian architecture, that offers a taste of the bygone era, blend flawlessly with the conveniences of the modern times.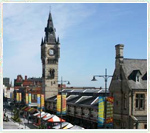 If you enjoy shopping, then you can drive down to the main market area that boasts of some of the best names in the high street fashion. Here you will find both shopping centres as well as some great independent shops. You can also visit the specialty as well as the floral markets to view the vibrant display of the locally produced goods. When you feel tired after spending the day shopping, you can drop in and relax at one of the cafes or the restaurants which offer good international cuisines. You can also visit the library, an art gallery, the civic centre or even the sports facility located around the town centre of Darlington. Make your Darlington car rental experience hassle-free and memorable with us.

If you are a history buff you can visit the museum and the railway centre to learn about the contribution of Darlington towards the development of the railways. The Darlington Railway Centre and Museum comprises of three railway buildings from the year 1830 that maintains an extensive exhibit including the "George Stephenson Locomotion No 1". It is believed that the Darlington locomotive is one of the oldest surviving locomotives from this collection. So if you to want to see the numerous attractions at your own pace then opt for Darlington car rental service offered by us.
Popular Car rental locations in UK