Newcastle - Highlights


One of the most famous cities amongst tourists looking for a piece of history happens to be Newcastle. Not needing any introduction of its own, Newcastle is one of the cities that offer almost everything to the tourists liking. Be it bars, pubs, nightclubs, art, culture, historical buildings, museums or shopping - Newcastle has it all to attract millions of tourists every year.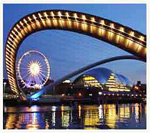 Few famous tourist attractions in Newcastle happen to be the Tyne Bridge, St Nicholas Cathedral, The Discovery Museum, Stephenson Railway Museum, Bamburgh Castle, Beamish Village, Angel of the North etc. The castle of Bamburgh is one of the most attractive sights, especially during the night time when it assumes a magical air. Angel of North is one of the latest additions to the list of tourist attractions in Newcastle, even as it spreads its vast wings overlooking the main highway. Apart from the various tourist attractions, Newcastle is also an active host to several festivals and events. Travelers can experience economical rental service by renting a car in Newcastle.


Now for most tourists visiting Newcastle, it is not just the city that offers the attractions, but also its proximity to Northumberland and northeast coast. This offers the tourists with an opportunity to base their travels in Newcastle while traveling to Northumberland and northeast coast for further explorations of history and art. For the same reason, hire a car in Newcastle from us, so that your visits to Northumberland are fulfilling and enjoyable becomes very important. Not just while going outside the walls of Newcastle, but going for a car rental in the city too will help in opening up a lot of prospects in terms of sight-seeing and exploration. Going for several options such as GPS and car navigation systems will help tourists easily locate and visit new places and explore the city with much ease. Simply choose our Newcastle car rental deal that makes for the best available option and enjoy Newcastle completely and hassle-free.

Popular Car rental locations in UK