Norwich - Highlights


Norwich is truly a place for one and all. Whether you are touring alone, with family and kids or with your partner, you will surely enjoy being at this place. Norwich has a fully loaded kitty in which it has something for all to enjoy. To give you a brief about the city; it has museums, theatres, cinemas, arts galleries, bandstand concerts, churches, parks, antique auctions, farmers markets, breweries, churches, nature reserves, gardens and number of shopping joints. In its countryside is located the beautiful Norfolk Broads, which is known for its adventurous activities. This was just an overview of the city to know more about it you have to visit Norwich. They best mode of transportation in this city is by car. If you are a tourist you can rent a car in Norwich with us and drown in the beauty of this place.


The Plantation Garden is a very famous garden in Norwich. The three acre garden was built approximately 143 years ago, in an abandoned chalk mine. You will find this garden around 600 yards from the city centre. The garden includes a vast gothic fountain, fine-looking flower beds, luscious lawns, Italianate terrace, a long Victorian-style greenhouse, and a striking rustic bridge. If you are a racing enthusiast be it horses or cars, then you should surely visit the Great Yarmouth Stadium. The stadium hosts stock car races, banger races and horse races at different days of the week. If you're planning to tour this p lace, hire a car in Norwich from us would be the best option to reach out to different attractive sights.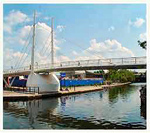 The city has lot to offer to adventure lovers. High Wire Forest Adventure contains a giant maze where you can get lost, a sculpture trail, extensive forest walks and cycle trails to take you back in time. You can climb tress, swing on ropes, crawl through the tunnels and manage to walk on high wire rope bridges in this park.
When in Norwich, you cannot miss a visit to the beautiful Norfolk Broads located in the suburbs. You can spend your entire day here doing activities like sailing by hiring sail boats, a canoe or a Norfolk Wherry yacht, walking the narrow lanes or may be cycling, you can witness some of the rarest wildlife and birds like the reclusive bittern or may be go for fishing.


Book your Norwich car rental now!
Popular Car rental locations in UK