Pembroke - Highlights


Pembroke, an ancient town in Pembrokeshire, UK is an interesting place to spend a few days. This old town has a glorious history dating back to the 11th century. The fortified and walled look of the town gives you a glimpse of past centuries. Exploring the old lanes and streets of the town with Pembroke car rental service offered by us is a memorable experience. The nearest international airport serving Pembroke is the Cardiff International Airport that is about 113 Km from Pembroke.


The most interesting aspect of Pembroke is that although it is a very popular tourist destination, this old town is very simple and still holds its historic legacy. This old town still holds medieval attire. The old houses of the town though renovated, show up a glimpse of the 18th and 19th century architecture. Driving through the old lanes with Pembroke car rental service offered by us is the perfect way to explore the town. One of the most loved locations in Pembroke is the Pembroke castle. The castle was an abode to the earls of Pembroke and the famous King Henry VII was born in the castle in 1457. The fabulous architecture of the castle will leave you mesmerized. Interesting tunnels, passages and staircases of the castle speak of the olden times. Interesting exhibits of the old British belongings are fun to explore. Near the castle stand two old churches that offer some great architecture designs to see.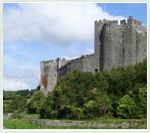 With excellent picnic arenas and children's playgrounds, the place is a fantastic option for a family vacation. One great picnic spot that needs a special mention is the St. Anne's Bastion grounds in Pembroke. Hire a car in Pembroke from us and get a convenient access to all the fabulous attractions within and near by Pembroke. You can have a great time visiting the beautiful lily ponds and tiny coves at the Bosherton just a few kilometers south of Pembroke. Also, don't miss the splendid coastline of the St Bride's Bay nearby. This beach is an excellent hang out for those who love surfing. For those who cannot afford to miss the hip hop of pubs and nightclubs, Pembroke has some fabulous places to shake a leg and party hard. The main street of the town has good number of pubs, bars and nightclubs.
Popular Car rental locations in UK