Peterborough - Highlights


Peterborough, known as the cathedral city of UK is about 75 miles from London. You can choose to land at East Midlands, London Stanstead or the Birmingham International Airport. While the East Midlands and Birmingham International airports are nearer to Peterborough but the Stanstead offers a quicker driving option. You can also take a train from Stanstead Airport station for Peterborough but hiring a car is a far more convenient means to reach Peterborough. Just hire a car in Peterborough from us and get an easy and convenient access to the town.


One great thing about Peterborough is that it offers a perfect mix of cultural and heritage attractions to modern era entertainment avenues. From the beautiful countryside to modern bars and pubs, you can find it all at the Peterborough. With our Peterborough car rental service, you can explore everything from cultural sights to green open spaces, lakes and riversides with ease.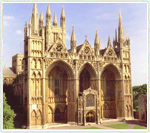 Peterborough has lots to offer to its visitors. To start with, you can visit the very interesting Flag Fen Bronze Age Centre and see some great stuff from Bronze Age. The main attraction here is the oldest wheel of Britain found by the archaeologists and kept here. Another interesting location is the 12th century cathedral in Peterborough that is known for its beautiful medieval style wooden ceilings. The museum of Peterborough is also an interesting attraction for the visitors. The ghost tour in the museum is very popular among the visitors coming to the museum. A visit to the Nene Valley Railway Station is worth it. The steam engines here take you decades behind the present times. Then, there is the Elton Hall Historic House and Garden. Known for the Gothic and classical architecture, this grand house has some fabulous medieval interiors and beautiful gardens surrounding it. With Peterborough car rental service offered by us, you can visit the famous Longthorpe Tower that just outside Peterborough with ease. This 14th century monument has a huge collection of medieval paintings inside. Other nearby attractions includes the Sacrewell Farm and Country Centre Sacrewell Farm and Country Centre.
Popular Car rental locations in UK