Tonbridge - Highlights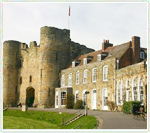 With a car rental at Tonbridge, you can drive to the Tonbridge Castle one of the finest example of ancient architectures. It reflects the charms of medieval England and has been fully renovated fir the tourist to visit it. Adjoining the Tonbridge castle is, the 13th century gatehouse guiding towards the riverbank. You can also enjoy a pleasant walk in the Haysden Country Park or cruise along the river Medway. The Tonbridge city is also famous for the wood works which can be seen while you are cruising down the river. Tourist can also enjoy theatrical performances at the Oast Theatre.

With abundant of restaurants, cafés and fast food shops in Tonbridge, visitors have many places to dine. Shopping enthuasists can explore High Street. There are also many sports clubs in Tonbridge city, so for tourist who have interest in adventure and sports have lot of option to choose from. Going for a car hire in Tonbridge is the easiest and the most comfortable way to tour around this city.

Tonbridge city is great place to enjoy sports, adventure and a thriving nightlife, with a car on rent.
Popular Car rental locations in UK