Bradford - Highlights
Bradford is located at the heart of West Yorkshire in the United Kingdom. It is a good place to visit especially if it is your first trip to Europe. This is because the rich heritage of this place boasts of a vibrant mix of cultures including German, Irish, Asian, Italian, African, East European as well as Caribbean. This amalgamation is a result of the influx of the immigrants in 19th century who came to work at the various mills situated here. Bradford is also home to the famous Bronte sisters as well as the location where the "War of the Roses" was fought. If you're planning a tour to this city then Bradford car rental service offered by us will be the best option to reach out to the different attractive sights.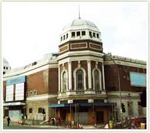 Bradford has emerged as a tourist destination with attractions such as the National Media Museum, Cartwright Hall. Bradford's oldest building is the cathedral, which was for most of his life, a parish church. Few other medieval buildings have apart from Bolling Hall, which has been preserved as a museum survived. Bradford is home to the famous National Media Museum celebrates cinema and movies, and is the most visited museum outside London. After a campaign in 2008, Bradford was recognized as a 'City of Sanctuary'. Rent a car in Bradford from us to see all the attractive destinations that this city offers to travelers.
Book your Bradford car rental now!
Our car hire locations in UK