Lincoln - Highlights
Lincoln, located in the beautiful county of Lincolnshire, is a smaller town of just over 85,000 people, which are both quaint as it is modern. Ancient Romans used to walk the streets, and many of the archways and other architecture are still standing today, that date back to ancient times. Lincoln has a beautiful cathedral that can be seen in its castle square, where the Lincoln Castle is also situated. Both buildings were built by the Normans, and are completely breathtaking to view. Getting to this town is easy just hire a car in Lincoln from us and easily drive to the places you would like to see.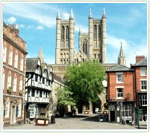 There are many places to visit, while in Lincoln, including but not limited to the Lincoln Medieval Bishop's Palace, the Performing Arts Center, Racecourse, St. Catherine's, the Arboretum and the Museum of Lincolnshire Life. With Lincoln being a town that has a very ancient past, it is no wonder that you can definitely see things off the beaten path, and by talking with locals, you can find out about any such places that might not be advertised, yet still available for the public to view. You might just be surprised at what you find, too. Use of Lincoln car rental service offered by us can be very handy, especially if you need to drive out to remote locations.
Lincoln has a wonderful night life, too, full of music and dancing as well as partaking of the local cuisine, as well as its many local varieties of wine and beer. There is traditional music nightly in the public houses and inns of Lincoln, as well as modern dancing and socializing, depending on the location. There are many local stories you can hear about, just by visiting in one of the local public houses, since the area is rich with urban legends.
Book your Lincoln car rental now!
Our car hire locations in UK