Eastbourne - Highlights
Eastbourne is one of the most magnificent seaside towns in UK. This small coastal town offers an array of outdoor and indoor activities for its visitors. From fabulous beaches to fantastic parks and golf arenas, Eastbourne has it all. To get to this town you need to touch the ground at the Gatwick International Airport in London. To avoid the last minute rush, you can book an Eastbourne car rental service with us rentals well in advance. Our company offers cars to match everyone's driving needs.
The classic golden town of Eastbourne has a charm and elegance of its own. The biggest attraction of the town is its beautiful beaches. The town holds the crown of being the only town winning the award for best and cleanest beaches for the past 8 years in a row. There are fantastic beach resorts available all along the seaside for get you a fantastic view of the beach and make your stay in Eastbourne even more memorable. The entire coastline between the Wish Tower and the Bandstand is full of activities for kids and the entire family. With Eastbourne car rental services offered by us, you can also visit some of the secluded beach arenas where you can spend a great romantic evening.
Beachy Head, a few miles from Eastbourne is another most loved location for visitors to Eastbourne. This downland area is a sea cliff about 162 meters above sea level. The cliff offers a fantastic panoramic view of entire Eastbourne and the neighborhood. The beach, the harbor and the town, you can see it all from the top of the cliff.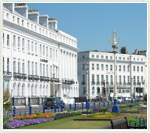 Within the town of Eastbourne, there is the Drusillas Park which is one of the most loved places for kids. This park is basically a zoo, but offers much more fun than an ordinary zoo. Fort Fun is another great place to have a fun filled day with your family. Adventure rides are the main attraction for kids at Fort Fun. Then, there is an amazing museum called "How We Lived Then" in Eastbourne. The museum is a good place to get a glimpse of the culture of Eastbourne. The museum has fantastic display of old shops, interiors of old rooms and lots more to see and explore.
Book your Eastbourne car rental now!
Our car hire locations in UK