Cardiff - Highlights
Cardiff is the capital and largest city of Wales. It is also the most densely populated county. When you are set to tour to this city, best option is to hire a car in Cardiff from us and explore every corner. Cardiff castle is one of the most popular tourist spots. It testifies the early Norman and late Victorian history that thrived here. Today it hosts different events like concerts, sporting events etc.
Llandaff Cathedral is another major tourist attraction in Cardiff. When you have explored the castle minutely, steer your rental car towards Cathedral Road crossing River Taff where there is cathedral standing for last nine hundred years. And if you are wondering that it looks younger than its age, well this is because of the reconstruction that had taken place in the nineteenth century.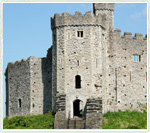 For a shopping buff, Cardiff is a paradise. Take your hired car to the St David's Center to know how large and spacious a shopping center can be. The shopping space here is 1,400,000 sq feet. According to a poll in 2009, Cardiff is the sixth best shopping destination in the UK. So if it's a plan to "shop till you drop", make sure you rent a car in Cardiff with us that are large in size to accommodate all that you have bought.
Visit the open air museum in Cardiff for a lifetime experience. The National History Museum at St Fagans houses buildings right from the early Welsh history. For nature lovers, the coastal area along the Bristol Channel is worth a visit.
Book your Cardiff car rental now!
Our car hire locations in UK