Inverness - Highlights
Inverness is a beautiful city, located in the Scottish Highlands of Scotland, in the United Kingdom. This area is so beautiful and rich, with flora and fauna that are abundant in the area; castles and other fantastic buildings that have been built many years ago, yet retain their beauty even today, culinary delights that are well worth dining on every night, and hospitality that is so rarely found in many places you could visit, while on holiday. Having the reliability of Inverness car rental service helps you to get where you need to go, while in this city and its area.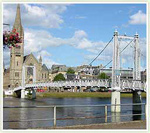 The many wonders of Inverness include not only Inverness and Cawdor castles, there are many lovely architectural beauties like St. Andrew's Cathedral and the Old High Church, which is the oldest building in Inverness, and should be seen to be appreciated. Of course, there is a really healthy night life, not only in the city of Inverness, but in the area, where there are public houses chock full of traditional Scottish music. Getting around in Inverness car rental service offered by us will really help you get to farther locations. You can end up somewhere delightful, that you'll really enjoy visiting.
Art and culture are very big in quaint Inverness, because it's not necessarily a big city style that is happening within, but certainly they are not lacking in beautiful paintings, sculptures and one of the number one attractions of the area, music and traditional dancing. Rent a car in Inverness with us and explore all the beautiful and attractive sights of the city.
Our car hire locations in UK