Bristol - Highlights
Bristol is a beautiful place with interesting sightseeing options and activities that are able to please even the most discerning of the visitors. A heady mix of modern constructions with astonishing medieval architectural styles, Bristol is definitely an attractive tourist destination. The city has managed to lure many travelers over the years to cherish its natural and historical abundance. These entire extravaganzas can be easily enjoyed if you zoom around the town in a Bristol car rental service offered by us.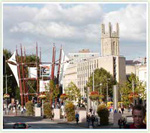 Bristol has something special for every visitor. The wild party hopper will be pleased to discover that Bristol offers energetic and lively nightlife with its clubs, bars and theaters. The kids will learn a lesson or two of history from the restored masterpiece ship on the Bristol dockyard. This is the earliest propeller-driven iron vessel. Bristol Zoo Garden is another popular family attraction that has above 450 diverse species from different corners of the world. Bristol car rental service offered by us is a great option for tourists. It will help travelers to travel without even bothering about the problem of changing different transports to reach distant corners of Bristol because frequent changes can be expensive and time consuming.
Hire a car in Bristol now!
Our car hire locations in UK