Ipswich - Highlights
Ipswich is the county town for the county of Suffolk, in England. Situated on the estuary of the River Orwell, it is both a lovely as well as busy town, with just over 128,000 people within and just outside of the town limits. There are many beautiful buildings and shops in Ipswich, as well as things to do and see which include areas nearby the river, if you are an outdoors or sports enthusiast, too. Getting around in this city is certainly easy enough, with the help of Ipswich car rental service offered by us. You are sure to have a lovely time as well as being able to keep busy, yet relaxed, while you are in the area, when you have a comfortable, safe vehicle to get you to where you want to go.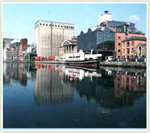 The Christchurch Mansion is host to many different galleries, as is the Town Hall, Ancient House and galleries within the Electric House. There are two museums; the Ipswich Museum and Ipswich Transport Museum, which gives you information about the lively history of public transportation, through the years in Ipswich. There is the DanceEast, a modern dance studio whose goal is to influence and nurture talented dancers in all areas within the East of England. There is also theatre; the East Angles theatrical group is based out of the Sir John Mills Theatre. There are cinemas, additionally, in town for you to enjoy. If you inquire into more that is available through locals who will know the area, use of Ipswich car rental service offered by us will easily get you to such places.
Besides culture and architecture, Ipswich has a very healthy night life. Full of public houses and inns that have everything from local to modern music to dance by, it is always great to get out and enjoy local culinary delights as well as libations, once night time comes to call, although you might want to make a day of sightseeing, at first.
Hire a car in Ipswich now!
Popular Car Rental Locations in UK