High Wycombe - Highlights
High Wycombe, a perfect place located amidst picture perfect countryside. You can pamper yourself with beautiful walking avenues, secluded valleys and lush green woods surrounding the town. High Wycombe has always been a destination to escape from the hustle and bustle of the routine life. The charisma of the town has attracted a good number of movie makers to use High Wycombe as a perfect location for their production. Driving through the streets of this town with our High Wycombe car rental service is a perfect way to explore this town.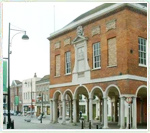 High Wycombe is located in a deep valley within the Chilterns offering it a fabulous natural beauty. High Wycombe is an old town that grew immensely during the 18th and19th century and developed as the "Furniture capital of England". High Wycombe is about 40 miles from central London. Talking about the places of interest within the town, the Parish Church is the most interesting location for history buffs. This old cathedral was built way back in 12th century and still holds its charm. It is the largest church of the country and has number of monuments and buildings of historical importance. Another visited location in the town is the High Wycombe Museum. The museum is housed in an 18th century structure and has beautiful gardens surrounding the building. The museum takes you back to the times when the town ruled the national furniture markets. Exhibitions and shops in the museum are a big attraction for the visitors. Then, there is the Hughenden Manor Park housing the magnificent Victorian Gothic House. Don't miss the Wycombe Air Park and the Wycombe Swan Theatre when in High Wycombe.
The countryside and locations surrounding the town offer natural beauty. Visit some of the beautiful gorges and picturesque places around High Wycombe. With High Wycombe car rental services offered by us, drive a few miles east and reach out the lush green grasslands called "The Rye". The place has an artificial lake perfect for boating and fishing during the summer months.
Rent a car in High Wycombe now!
Our car hire locations in UK