About Leeds
Leeds, a city in West Yorkshire is a major financial and cultural center in England. It also happens to be a place of great historical importance, with many attractions to explore. Start your journey in West Yorkshire by hiring a car in Leeds. Having a rental car in Leeds will let you explore a number of places at your own pace. Moreover, car hire in West Yorkshire will broaden your reach to the enthralling English countryside.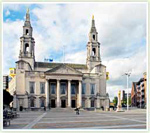 Starting with the history of the area, Leeds was a market town in the middle ages and produced woolen, white broadcloth among other trades. A major retail shopping destination, Leeds is home to seven indoor shopping centers with well over 1,000 retail businesses to choose products from. The city is also home to four museums, two theaters, and other cinemas halls. The Leeds Carnival and the Leeds Festival are two popular events among tourists.
There is surely a fabulous nightlife in Leeds, with many different styles of music and dancing to have fun with, if you are so inclined to. You can be a part of the festivities, or just relax and enjoy one of the truly great cities of England. Book your car rental in Leeds today and enjoy special discounts.
Our car hire locations in UK