About Liverpool
Liverpool, the fourth largest city in the United Kingdom, is located in Merseyside, England. A fairly large city, Liverpool offers an array of culturally diverse activities, a great nightlife, and a myriad of outdoors and sporting-related activities. Much like other metropolitan areas of the world, Liverpool has quite the assortment of culinary delights to offer those who wish to not only experience the tastes of the area, but to absorb the culture, and learn how other people of the world live and work on a daily basis. If you have never been to a big city, Liverpool will be quite the experience for you. Hiring a car in Liverpool will pleasingly get you to the various places and attractions located in and around this city.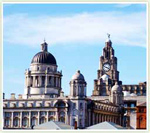 Some of the exciting places to visit in Liverpool include its waterfront area. The Albert Dock, built in the year 1864, is a major tourist attraction and offers meals and refreshments as well as a fascinating tour of the building and area. You'll get a glimpse into one of England's most important dock cities, which is one of the main reasons why Liverpool is so popular and thrives, much as it always has today. Some of the architecture of the buildings within this and other areas of Liverpool includes Neo-classical Romanesque-Gothic influences, as well as buildings like the Speke Hall Tudor Manor House, built in the Tudor style. There is also the Liverpool Cathedral.
Liverpool Commercial District and Cultural Quarter, really give you an idea of why it is such an important, popular port city. So much trade has commenced within and just outside of Liverpool, that the goods and products it has available for purchase make it one of the best places to shop and enjoy purchasing goods that you may not get anywhere else in the world. Book your Liverpool car rental now to enjoy special discounts.
Our car hire locations in UK