Glasgow - Highlights
Glasgow is known as the 3rd most popular city of Europe. Glasgow was adjudged The European city of culture in the year 1990. The city primarily follows a Scottish culture and boasts of a rich industrial legacy. People believe that Glasgow marks the beginning of the picturesque Scottish highlands. There is in fact a lot to do and see in the city and most of the times it is not possible to visit the attractions of Glasgow by foot. Though the best way of exploring this Clydeside city is by taking a leisurely walk but the distance of the attractions and the limitation of time compel you to rent a car in Glasgow with us for moving around the city.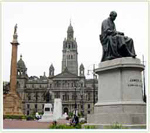 The city squares are a major attraction. St. Andrew's square is an amazing entertainment zone. This is a place in the Glasgow city where you will get to see a variety of people and find several entertainment options. The Glasgow Cathedral is yet another wonderful site of attraction in Glasgow. It is a living instance of the beauty of pre reformation and Gothic architecture. The Museum of Piping is a must-see for all. The Celtic football visitor center vouches for the success of the football club of Glasgow. The Burrell Collection is another famous tourist attraction. It is considered as one of the best private collections of Europe. The Kelvin grove museum and art gallery gives the tourists deep insight into the cultural life of the citizens. Several restraints and pubs are scattered in the CBD area where the travelers can unwind. Reaching the central business district of Glasgow is also not a hassle. We will provide you Glasgow car rental service within your budget and suiting your preference.
Hire a car in Glasgow now!
Popular Car Rental Locations in UK