Luton - Highlights
Luton is a large town, located within Bedfordshire, which is 30 miles north of London. It has a population of 230,000 inhabitants and is the home of the Blue Square Premium Team, Luton Town Football Club. The London Luton Airport is very easy to get to, and come from, even though it is an international airport. Being a very diverse town, culturally speaking, Luton has many sights to see, activities to participate in, and in general is a lovely place to visit, if you are looking for relaxation as well as a good time. Hire a car in Luton from us is one of the first things you should do.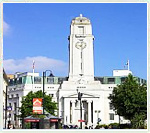 Luton was once quite famous for hat-making, as well as a major production location for the Vauxhall automobiles company, up until the year 2002. Culturally, Luton offers some great places to visit, like St. Mary's Church, which was built in the 15th century and is as still gorgeous as it ever has been. The Luton Museum and Art Gallery is a former mansion built in the 19th century and was donated for its current use today. Driving around the area with Luton car rental service offered by us and finds further things to see and do.
Besides being very culturally diverse, Luton also has traditional culinary delights available for you, nearly 24/7, depending on where you happen to be looking. Dancing is a nightly event, and many places have live music to dance to, from traditional dancing of the area to modern pop, rock and disco, as well. So many places are available, and many are often up quite late at night. Luton is truly one of England's nicest areas to visit, providing a good combination of relaxation and entertainment.
Book your Luton car rental now!
Our car hire locations in UK