Milton Keynes - Highlights
Milton Keynes is a large city within Buckinghamshire, England. Its population is roughly about 230,000 and is therefore fairly average, compared to other cities in England. Near some of the most beautifully forested areas, and situated nearby Lake Caldecott, Milton Keynes is an area of natural beauty that can be enjoyed year round. To those outside of the UK, the same can be said, only it is close enough to major towns like London, Birmingham, Leicester, Oxford and Cambridge, so that you can visit these areas easily enough, too. It was designed to be close by such locations, as it was only made a new city in the 1960's. Getting around Milton Keynes or just outside of it is really easy, by using Milton Keynes car rental service offered by us, which can get you quickly to your accommodation, once having arrived in the area.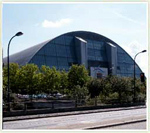 Milton Keynes features an open-air National Bowl, which features larger music and sporting events, year round. Additionally, it has the smaller Milton Keynes theatre, which only seats 1,400 and is therefore perfect for more intimate theatrical productions. Boasting a fabulous art gallery that hosts free exhibitions of international contemporary art, there are also locations for music, like the jazz designs that are heard at The Stables, or The Pitz Club, which offers punk, alternative, and heavy metal music. There are museums in Milton Keynes; Bletchley Park and the Milton Keynes Museum, both which are outstanding with their respective displays. Performance poetry is really big in Milton Keynes, and local groups will often give readings most nights during the week. Driving around to many different places is possible, Milton Keynes car rental service offered by us get you to other venues that host wonderful events.
The culinary delights of Milton Keynes are truly something to be reckoned with, since they were meant to be enjoyed, as well as the many different kinds of deserts and other sweets made by local bakers in town. Rent a car in Milton Keynes now!
Our car hire locations in UK