Maidstone - Highlights
Maidstone is the county town of Kent, in England. The population for this smaller town is just over 138,000. Maidstone is located near the river Medway, which provides for a really lovely spot to relax and enjoy you, while on holiday. Maidstone is tourist-driven, to a certain extent, largely due to its location by the Medway. But there are other things to do and experience, while in Maidstone, that are also quite exceptional. It all starts with getting from the airport to Maidstone itself, where your accommodations will always be very comfortable. Maidstone car rental service offered by us help you get to this town as well as the many places to visit within the town and its surrounding area, while also being comfortable and safe.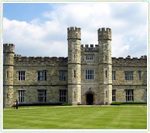 Some of the most beautiful buildings in all of England are in Maidstone. The Archbishop's Palace, for one thing, is one of the richest-looking structures, which truly looks like a palace. Additionally, the Maidstone Museum hosts many marvelous things to gaze at and study, from the ancient times of the city to modern means that have helped the people of the area to further growth and prosperity. The arts have a special place, in Maidstone, and most of what can be experienced includes events at four different theatres: the Hazlitt; RiverStage; The Exchange Studio and Hermitage Millennium Amphitheatre. Events at all theatres tend to be ongoing, during fair-weather days of spring and summer, though occasionally through the fall and winter, too. Maidstone car rental services offered by us help you to get to the places you really want to go, whether within or just outside of the immediate area.
In addition to the many culturally-oriented activities in Maidstone, there is also the food of the area; simply put, it is really a wonderful variety, and can be sampled inside one of Maidstone's many fine restaurants, or in an outside café, perhaps overlooking the River Medway. No matter where you go in Maidstone, you are sure to have a great time.
Rent a car in Maidstone now!
Our car hire locations in UK