Coventry - Highlights
Coventry is ideally situated in the beautiful region of West Midlands. From Coventry's central location you can easily access many parts of United Kingdom. The convenient location makes renting a car in Coventry with us the best option to traverse the corners of this beautiful country. Coventry's proximity to Birmingham's International Airport makes it an idyllic getaway for the busy business traveler or an inquisitive overseas visitor. Travelers who want to enjoy the wonderful English countryside can undertake a two-hour journey from Heathrow or Gatwick airports to Coventry.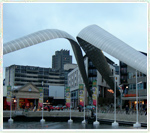 Coventry can be easily accessed from a number of midlands motorways. Kenilworth Castle is one of the nearby attractions from Coventry. It is a stunning ruin of the Norman fortification. History aficionados will be amazed by the Castle's rich and impressive past and the number of nobles who have lived here. The lush Elizabethan gardens of Kenilworth have been restored to resume its past glory. Tourists of every age enjoy this beautiful scenery. Hiring a car in Coventry from us is a great idea for tourists as it offers excellent price packages for the frequent business travelers.
Book your Coventry car rental service with us and enjoy a memorable trip to this city.
Our car hire locations in UK