Chester - Highlights
Chester is one of the most popular tourist destinations in Britain. It is a getaway of choice for a varied spectrum of travelers - nature lovers, seekers of solitude, history aficionados, and shoppers wishing to pick up exotic and attractive curios and bric-a-bracs. Thus it is not surprising that on weekends and holidays, the place teems with visitors from all around the region and the country. Most of these visitors opt for Chester car rental service offered by us to go around the place.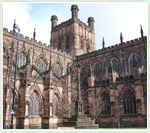 Travelers to this part of the world will be spoilt for choice, given the must-go and must-do platter–paying a visit to the Chester Cathedral, admiring the relics at the Grosvenor Museum, going berserk with the retails choices teeming at the Grosvenor Shopping Center, or taking a tour of the Chester heritage sites. There are many more popular tourist destinations that are situated a few hours drive from Chester. So if you are a tourist visiting this area, Chester car rental service offered by us is your best option to get around the place.
Hire a car in Chester now!
Our car hire locations in UK