Leicester - Highlights
One of the truly oldest cities in England, Leicester is the county town of Leicestershire, England. It was founded in ancient times, which makes it a very interesting place to visit. Located on the River Soar as well as bordering the National Forest, Leicester is a really beautiful town, and one that you'll not soon forget, if you decide to take a nice holiday to the area. One of the unique things to remember, with regard to Leicester, is that it is in an urban area, therefore well over 289,000 people who live and work there, so there is never a dull moment, and always something going on in Leicester. Once you arrive to the area, you'll want to get to your accommodations as soon as possible, and by renting a car in Leicester with us, you can plan well ahead in advance for a convenient, safe drive to wherever you would like to visit, while in this wondrous town and its surrounding area.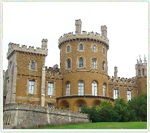 There are still ancient Roman baths and pavements, since Leicester was a main military outpost for ancient Romans who lived in the area. There are many ancient ruins and artifacts to see, including the baths, located at the Jewry Wall Museum, which is just outside of gorgeous St. Nicholas' Church, another truly beautiful building to admire and take a tour of, if you would like to, also. There are other places to see of similar, ancient origin, such as the Leicester Guildhall and Leicester Castle, both which are very beautiful and of course lovely to see and visit while on holiday. If you talk with locals, they should give you a really good idea as to what else you can visit, while in the area, whether you are interested in ancient ruins, culturally-rich areas, or something completely different. Just having Leicester car rental service offered by us in your possession, while on holiday in this town, will make things much easier for you.
It's really easy to create a lovely holiday, while in Leicester, since it has so many really great things to offer travelers on holiday. All you need to do is hire a car in Leicester, in order to experiencing not only a relaxing time, but a fun time when visiting the ancient and wondrous town.
Our car hire locations in UK